We also call it Yulong Bridge,it is the famous old bridge in Guangxi Built in Ming Dynasty.It is 60 meters long,5 meters wide,9 meters high and with 18 meters span.The army of the taiping heavenly kingdom(1851-1864A.D.) And the Chinese workers' and peasants' Red army(1928-1937A.D.) once tramped on it.
A bike ride along the Yulong River to here is one of our favorite days out.We definitely recommend you come to visit the bridge by bike or hiking.There is a very good village road leading to here from Yangshuo. Along the way you will be going though small villages,past rice paddies. And then you will be following the banks of Yulong River.Very interesting.
If you don't ride bicycles,you can take a car via the main Guilin road and past though the Baisha Town,and then reach here.
Doing a relaxing bamboo raft trip is a good choice from DragonRiver for one or two hours down the river before heading back to Yangshuo.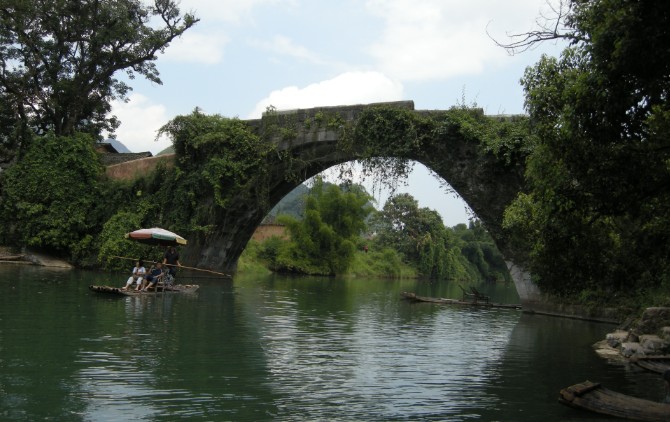 Dragon Bridge The view beside the Dragon Bridge